I was reading an online review site of webcomics, and they were listing a bunch of Halloween related ones…
And the one that really has captured my heart is one called Eerie Cuties…
Now this webcomic has recently started, so if you jump over to it, you can catch up really quickly! The series is updated twice per week, Mondays and Wednesdays usually. The artist is named Giz and the comic is coloured by Miguel Marques.
The story is about a group of vampires and other legendary creatures that are in high school and the events of their lives there…
And most interestingly to me, one of those is a Succubus.
Her name is Chloe Love, she's 14 and she thinks she's a failure as a Succubus. She's blonde with black tail and wings and red horns, has freckles and is sooooooo cute!!!
And here is one panel of Chloe revealing herself for the first time with her horns and tail: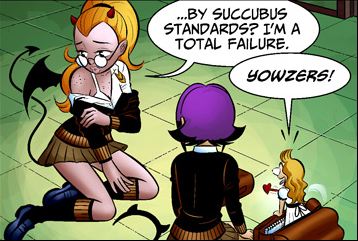 I really really love the clip on horns she wears over her real horns! That's just a wonderful character touch that I really hope we learn more of in the future!
I'll be honest and say that, for me, she isn't anything like a failure at all… She's cute, she's caring, which to me is part of being a Succubi… Hmmm… Mebby she isn't a Succubus and is a Succubi like my mythos is?
That would be a wonderful thing if that was true…
I've placed a permanent link in my Blogroll to this webcomic and I hope you have a look!!!
It's just full of cute!
Tera