With thanks to my heart James. the Succubi manip I posted yesterday has a delicious story to go with it!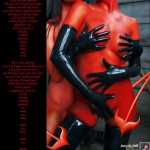 And the story…
There you are, darling!
The soft, cool vinyl of your gloves
cupping around my breast,
your tail—slim, supple, powerful—
twining around my thigh,
and my heart races,
and my breath stumbles,
gooseflesh rises
and in my eyes is
hungry,
wanton
shameless
lustful
want.
Want.
You.
Now!
Here I am, darling!
Your touch wipes out all other loves!
I reach for my own nest:
my itch keeps your next hour full;
my tail rubs, makes you sigh,
puts you through paces.
Each pretense crumbles;
all our guises
dropped for the prizes
of wet,
searing,
sweating,
glorious
sex.
Want.
You.
Now.
Want.
You.
Now.
Want.
You.
NOW!
*huggles*
Thank you as always my heart…
Tera