As most know, I look at a lot of costumes. I try to find ideas and things that might, if done right. become a really nice looking Succubi costume.
Earlier this year I did some experimenting with liquid latex.
And today, I came across this offering on the web…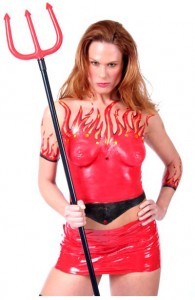 Okay, so you get the following in this kit, four jars of liquid latex, body prep, body clean, body finish, brushes, stardust and a roll of fashion tape.
And that's it. The skirt and pitchfork you have to pay extra for. The cost of the latex kit is $70 USD…
I honestly don't think I like this a lot. It seems a little too cartoonish for my liking. You'd also not wear this at one of the less risque Halloween parties, certainly not in front of the younger trick and treaters at least…
It might, the kit that is, be an idea to use instead of red body paint in addition to an actual costume…
Have to ponder that some….
Tera