I have commented on a lot of Succubus costumes. Some are good, some aren't. Then there are the ones that you stare at and they make you ask all sorts of questions…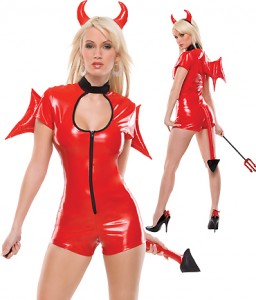 For example…
If you poke her with a pin, does she deflate?
I mean really, this is just so tacky really, and why would someone wear this?
Anyway… What do you get for this?
This costume is described as a wet look knit jumpsuit with front zipper. The wings and tail are attached to the jumpsuit. The horns and pitchfork are included with the costume.
Looking at the wings, I think, but I am not sure, that they are inflatable. It would make sense if they were as otherwise I would expect them to be saggy… The tail is not anything like I would wear, the horns also look as if they are inflatable too…
This can be found on the web for roughly $60 USD…
Honestly I can't see paying that for this. Mostly for how unimpressed I am over it…
The shininess is nice, but I just can't really see this as being a good Succubus costume…
Rates one out of five pitchforks…
We can do so much better than this really….
Tera