I came across something on the web today that is Succubus related. There is a website that had an item for sale. Now, it has been sold apparently, so I won't be linking to the page…
Oh, I also forgot, this item was on sale there for $35 million dollars…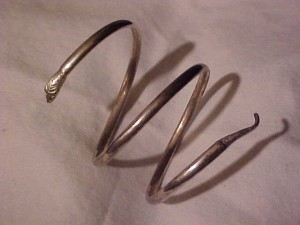 Yes, amazing isn't it?
But the more interesting thing is the story that goes along with this bracelet:
The item your looking at is sterling silver and very old and movable. This is made to be worn on your arm or wrist. This is not what I would call a spirit inhabited item that helps you yet it is. This is ONE OF A KIND. This is unusual because instead of a succubus visiting you or you waiting for spirit sex you become the succubus. How this works. This is one of my most fascinating items. You are going to become a sexual prize!
You are to wear this during any type of sex and you will not only blow them away but they will as if they are getting blown from all ends! Whoever you are with will feel as if you are a million tongues and a million hands all over at one time. The pleasure is hardly tolerable. They will scream out fr you to stop because they just can't take it. Your hands become magical and while your at it you engulf them with pure sexual energy.
There is something about this that makes it like a full body experience. You know how you have to have your hands in one place,your tongue in another,one hand here,one hand there. With this you will cover them in pure sexual pleasure.  You can even touch yourself with it and o be honest,who wouldn't. Now as with all things powerful there is a catch with this but it is small. Kind of?
Here is the thing. Once you have sex with a person you will wreck it for anyone else to have sex with them. They can only experience this with you. They can never get enough of you. When your done with them,the sex part they are like dead fish because they can not move. They are so drained because they had multiple orgasms over and over again from every part of the body.
While the story is really interesting, what gets me is the idea of the bracelet turning someone into a Succubus…
It has made me write an outline for a story that is based on this bracelet…
I hope that I manage to write it soon…
Tera