Sometimes people come up with really good ideas for Succubus costumes, but then they go and do something to wreck the concept in the display of it…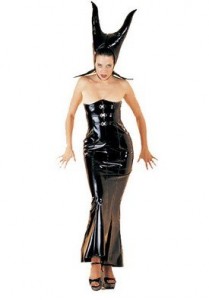 You can find this outfit here.
I know that the tail isn't there. I also know that the horns are beyond silly looking. Actually it looks like she is wearing a balloon on her head…
But.
Since you don't get the horns with this, or the shoes, or a tail…
It's a good start at building a Succubus costume from…
So, pondering this for a minute, small red horns with a long red tail give you a good contrast with the dress. I am somewhat indecisive on whether I would go with red shiny arm length gloves and shoes or black ones…
I'll have to ponder that part somewhat…
This dress has three buckles at the front of the dress which I can do without, but since they are there, I'd just have to live with that part of it…
This dress is available for $35 US at the link above…
I'll rate the dress alone, as that's all you get, as 3 out of 5 pitchforks, but with a little work, it can be a lot more….
Tera