I received this costume in the mail last night. It's not a bad starting point for a Succubus, but let's see what we can do with it…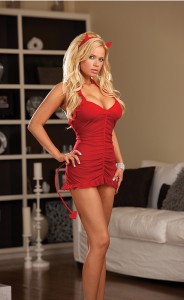 This costume, when you open the package, consists of a red stretch mesh babydoll set of lingerie, with a little red tail attached to it. It also comes with a red matching thong and the little pair of horns you can see in the picture…
I love the horns. They are almost exactly what I imagine I would have as real ones as a Succubus. The only thing is that the headband for them is far too thick. I'm going to narrow it a bunch so that it's not quite so visible.
I have to admit that I like shiner material for my Succubus costumes, but I like the babydoll a bunch, so what I would probably will be adding to it is a pair of velvet fingerless gloves and a pair of long lace red heels…
I don't think adding latex to this would look right, so not going to for this outfit…
It's available on the web for $27 USD.
I'm going to give it 4 pitchforks out of 5.
It's nice, well made and I do think that it just is perfect for a cute looking succubus to be wearing…
Tera