I was looking for another Succubus costume to post here on the Tale, but instead I came across an image, and a wig, that I ordered because… Well… It just screams Succubi goodness…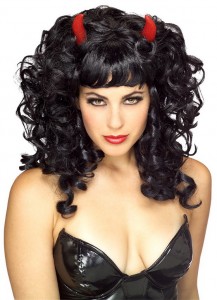 Or is that evilness?
Anywhoo…
This is soooo yummy…
The model, the dress and the wig together are just so very perfect for a Succubus…
This is available here as well as other places.
For the reasonable price of $14 USD you get the wig, which consists of curly black hair to just past shoulder length, the red horns, which are soft and plushie-like and that's it.
I really do like this a lot! The wig can be styled easily as needed, and the material of it is a really good match to some of my more latexy outfits. It fits snugly, but I will admit that over time it does get a little uncomfortable to wear, that's just my opinion of course, some will not have that I'm sure…
Rating: 4.9 out of 5 Pitchforks, it's not quite perfect because the horns could be a little bit better made than they are.
Tera