And from the sounds of it, it's going to be a world of suckyness…
Canwest Global in Canada announced last night that they are working on a series to premiere in 2010 called Lost Girl on the Showcase TV channel.
According to their wonderfully worded, formal, press release the series is:
Canwest Broadcasting delves deep into the world of fantasy and action as it green lights the daring new series Lost Girl for Showcase. The 13-episode, one hour series will air on the channel in 2010. A drama loaded with mystery, romance and intrigue, Lost Girl focuses on the gorgeous and charismatic Bo – a Succubus with heart. While Succubi are inhuman women who seduce and feed off their human partner's sexual energy, Bo is not your average Succubus. Raised in secret by humans, Bo tries to survive in the human, modern world without giving in to her instinctive urge to kill. Refusing to embrace her supernatural clan and its strict regimes, Bo uses her feminine wiles – along with some help from her friends – to fight for the underdog. All the while, she is on a very personal mission to unlock the secrets of her origin and find her birth mother.
Immediately I am turned off just by the total dryness of this series, not to mention that it seems to be so close in idea and probable execution to all of the current vampire TV series that are flooding the airways at the moment.
But let's continue with the press release and see if there might be the slightest glimmer of hope for it:
Leading the Lost Girl cast is Anna Silk (Billable Hours, Being Erica) as Bo. The gang of monster misfits and human helpers includes Kristen Holden-Reid (the upcoming Ben Hur remake, The Tudors) as Dyson, an inhuman cop involved in a love/hate relationship with Bo – he absolutely hates how much he loves her. Two-time Gemini Award winner Ksenia Solo (Renegadepress.com) stars as Kenzie, Bo's street-smart and fiercely loyal human best friend. The cast also includes Rick Howland (Bon Cop, Bad Cop) as Trick, a friendly saloon keeper with something to hide.
So, the lead character is named Bo? Bo? Couldn't they use something a little bit sexier than Bo?
But maybe the lead actress has promise as a Succubus…
This is the best photo of Anna Silk that I can find at the moment: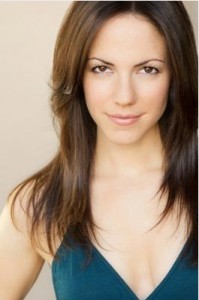 She has promise as a Succubus, but I have the feeling, based on the series outline, that she will not be made up to look like a Succubus should look. I fear that she'll be as non-sexy as possible… But! And there is a big but, Showcase does tend to have some adult series on and if the series runs in the late evenings… We might actually see her as a Succubus should appear.
The next part of the press release states:
"Lost Girl is so unique in that it weaves an array of genres – fantasy, romance, action – all the while developing these complicated, intelligent characters and rich storylines. We can't wait to get started producing this bold and fun series," said Christine Shipton, SVP Dramatic and Factual Content, Canwest Broadcasting. "With one of the hottest and most dynamic casts coming to television and an exceptional creative team, Showcase viewers can look forward to a sophisticated series chock-full of action-packed twists and turns laced with chemistry-fuelled relationships." Lost Girl will also offer a cross platform experience to viewers. Production is currently underway on the development of an interactive website, graphic novel and downloadable video game.
Ugh. Who writes this stuff?
Poking holes into this part of the release, it seems like it's trying too hard to push the series as an alternative to the current batch of supernatural focused programs that are on TV. I also think very little of the idea of pushing this series over other media in the way they are describing it.
Finally, for completeness, the end of the release states:
Lost Girl is developed and produced by Prodigy Pictures, with the participation of the Canadian Television Fund, the Canadian Film or Video Production Tax Credit and the Ontario Media Development Corporation. The series is executive produced by Jay Firestone, Paul Rapovksi, Plato Fountidakis, Michelle Lovretta and Peter Mohan. Lovretta also serves as Creator/Writer for Lost Girl and the series is also written by Mohan. Lost Girl is produced by Wanda Chaffey.
At least it has some decent backing behind it…
I have so many fears over this series, so I am going to list them:
*The Succubi are written to be like vampires
*The Succubi have little intelligence and are mostly about sex.
*Costuming falls on the vampire / goth look instead of using clothing THAT IS SEXY!
*The mythos of Succubi is rewritten. Badly.
*A weakness of the Succubi exists so that they can be killed like vampires.
*The Succubi HAVE NO HORNS OR TAIL, but have vampire teeth.
*Succubi fly from place to place or turn into some other creature instead of teleporting from place to place
*No mind control by the Succubi save for the making of others need to have sex with them.
*And lastly for the moment, the lead character spends all of her time in angst over what she is.
There is probably more, but I'll keep an eye on this series, add it to the SuccuWiki and hope that they manage to create something that for once, I can say IS succubus-worthy.
They have a great opportunity to do that.
I hope that the writers, actors and actresses, production staff and everyone involved in the series makes this series better than I expect and proves me wrong.
I'd love to be able to say that.
Tera