This week's Succubi is something on the cute side of the pitchfork….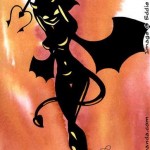 The artist is Eddie Perkins and his site is: Atomicpanda.com.
I'm not exactly sure, but it is possible she is a goo-succubus or, and I like this idea better, a latex covered Succubus…
Either way it's a wonderful work!!
Tera