I'm still looking at all of the succubus costumes that are available and to tell the truth it just seems to be getting worse and worse with every one that I find.
This one is… Well…
I guess if you want to be a slutty Succubus it would work for that…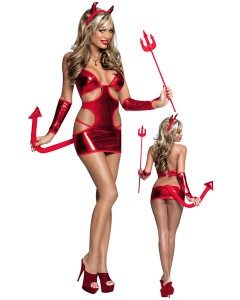 This is described as a Sexy Red Hot Devil Costume.
oooookay….
What you get with this outfit is just the costume. Period. Unlike a lot of other costumes available which include at the minimum the horns and occasionally the tail, you are out of luck with this one.
So let's figure out what this is really worth if you want to look like the model does in the piccy…
Costume, $34.97. Shoes $26.97. Pitchfork $10.97. Tail $3.77. Horns $8.97.
Total for the whole thing is: $85.65 USD.
Sorry but that ensemble is not worth that.
It's not something that really is Succubish in nature.
I will say that the outfit does demand the CFM sandals. Without them this isn't going to look even semi-decent…
But this is a lost cause from the beginning and I can't think of anything that I could do to make this something I'd consider for Halloween….
Tera's Rating: one-quarter out of five pitchforks
Look elsewhere. Please.
Tera