Okay, I admit that I do look for things that sometimes do not make a lot of sense, cost far too much, or just are so far out of consideration that I can't help but laugh over it…
I'm not exactly sure where this item falls…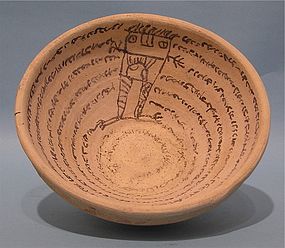 Obviously this is a terra cotta bowl…
This item, and a second bowl are on auction for…
$5000…
That's a 5 with three zeros behind it…
According to the sale:
Found in The Levant, two Magic or Incantation Bowls designed in the Aramaic language with Hebrew letters that spiral to middle of bowl. Buried upside down under a home the spell set a trap for the succubus Lilith and other evil demon gods. One bowl has a figural motif (7″ diameter) and the other is Serpent motif (6″ diameter.)Respective prices are $2,700 and $2,400. Circa 3rd Century C.E. Both in excellent condition.
Now I can't afford to buy them, but they do bring me to pondering two thoughts…
One is that, those bowls were found upside down right? Therefore them might have trapped a Succubus…
Where is she now?
And secondly…
Coming from the 3rd century to the 21st…
How would she make do?
And that just pokes a story idea into my mind to ponder this weekend…
Tera