This week's Succubi is… Well… A bit of a question mark…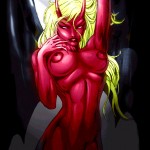 Now, I have seen this image all over the web. Some in black and white, some coloured like this one, but not one of the images has her name or anything about her. Nor is there artist information for that matter.
And that brings me to my question mark…
I know that she's a well known character in some comic book series, but for the life of me, I can't put my finger on the title of it…
Help?
Tera