So, once again I have been looking for Succubi costumes… I was hoping to discover something decent this time, but of course that isn't going to happen…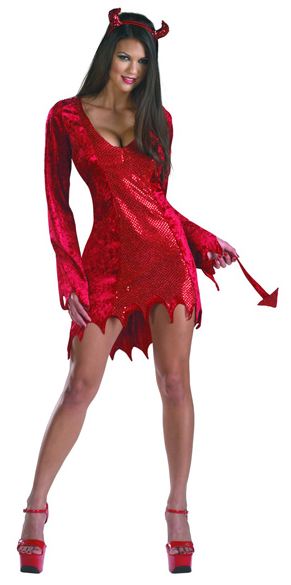 This is available at this site.
So, you get the following with this outfit…
The dress, the horns and the tail.,, No shoes, though I give the model points for the ones she chose for the picture they took.
The dress itself is one of those flimsy materials designed to last about one wearing and then start to fray and come apart. The tail is very short and glitter covered, and the horns are oversized, as is the headband they are on.
This outfit sells for $25 US at most places it is avaiable… I'll be honest and say that those heels she is wearing in the photo are worth a lot more than the dress is..
So, anything actually good about it?
And yes, this arrived yesterday in my mail and I have worn it…
I'm going to remove the long sleeves, get one of my pairs of long latex gloves to wear instead. I'll probably also straighten out the hem of the dress, the uneven edge is not nice looking, and add some either fishnet hose or deep black hose with the red CFM heels I have that have a two inch base and six inch heel…
Well it can't hurt the look really…
<winks>
Tera