Just a beautiful image of a Succubi for this week…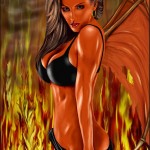 This artist's name is Spiros Fon Kourtakis, click on the link to visit his page of wonderful art at Elfwood.com. He has done a lot of Angel, Succubi, Faery and other works which are just wonderful in their design, shading, and coloring… Truly a talented artist!!
You can find the original source of this image here:
http://sfkourt.elfwood.com/succubus_in_fire.jpg.html
Please do visit his page and comment on his works!
Tera