Who came up with this idea?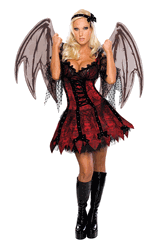 You'll love the description too…
Sexy Demon Vampire Fairy Costume
This fabulous demon fairy costume includes a beautiful detailed red and black dress, sheer sleevelets, wings, and headband.
There's a combination for you… Three totally different beings mashed into one creation…
Obviously no horns or tail on this one, so then the wings should be the demon I guess… The vampire I don't see in this as there are no fangs in the description and as for the fairy, where is that?
Sometimes I wonder…
Feeling betterish…
Tera