So the Succubi Image of the Week is one day late, but I am sure that yesterday's manip that I did was to the liking of a few of you…
Staying in the Christmas Succubi theme then, for this week's image I give you this lovely work: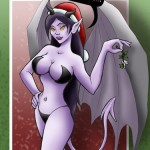 This is I regret another of those, no idea who drew it, where the site is, or who the character is supposed to be, images…
As always assistance is welcome!
Happy Boxing Day to all!
Good luck at the sales!
Tera