Sometimes I wonder about the things that are Succubus related…
This one in a couple of ways…
It is a Succubus-themed pool cue.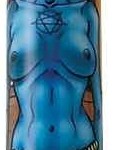 I'll have the image here on the Tale tonight, for some reason WordPress doesn't like to alter the image size to something reasonable to display here… (Updated! It's up!)
So, a pool cue. I have one question…
Why such a lousy image for it?
Couldn't they have found something sexier or at the least used different colours to make it stand out better?
Just a thought…
Tera