This week's Succubi Image of the Week just makes me stop and go…
Yum.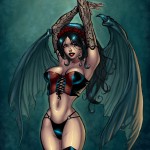 It's beautiful and soooooo deliciously sexy….
According to the file name, this image was made by an artist named residentlilly…
So, taking a chance I looked on Deviantart and…
Found them!
http://residentlilly.deviantart.com/
Now, the artist is actually not an inker, someone else did that, their name is *redeve, and their Deviantart site is:
Just overwhelmingly beautiful work!
I really hope that residentlilly reads my email request and gets in touch with me or my hubby…
Tera