Last night on the Collective, Darkwalkers Shadow posted a delicious idea…
In his words…
New for the 2008 holiday season, the Collective's reigning Succubi breaks into the video game market with what is guaranteed to be the hottest game of the season.
Soon available for PS3, Wii, XBox360, DS, PSP, your mobile phone, PC, MAC and LINUX
Resistance is futile …. Pleasure is your reward.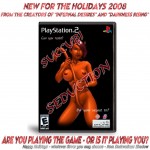 <huggles and snuggles for Darkness>
That's just evilly delicious…
<smiles>
<kisses>
Tera