I discovered a new novel about Succubi in my mailbox this morning that I was not aware of…
The novel is titled Midnight Sins and is written by Cynthia Eden.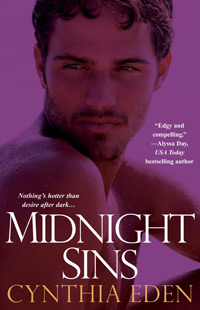 She is better known for novels written about vampires and other such paranormal creatures, but this one looks to be interesting…
A small preview:
Gorgeous blond nightclub singer Cara Firon doesn't look like a monster. But a twisted killer is leaving a trail of bodies in seedy hotel rooms across town and right now, mysterious Cara is detective Todd Brooke's only suspect.Cara knows it's foolish to be drawn to a man who thinks she's a murderer. She is one of the Others, a race of powerful, paranormal creatures who live among humans. Cara's particular abilities make men putty in her hands – all except the rugged, sexy Detective Brooks.As uneasy trust gives way to mind-blowing desire, Cara and Todd will go head-to-head with a killer whose mission is deeply personal, and who's determined to serve up revenge that's hotter than hellfire, and just as deadly.
And there is a little blog entry from the author here:
http://bittenbybooks.com/?p=2267
I have to say that I am thankful that the Succubus of the book is not the normal kind but more towards my version of Succubi…
I've ordered the book and I hope to have it next week to read…
Cynthia's website is at:www.cynthiaeden.com
The novel is on the shelves on November 25th, 2008.
Have a peek around at some of her other works!
And of course it will be added to the SuccuWiki within the next little while…
Tera