A member of the Collective passed away last Thursday. She was known to some of us, to most her voice was quietly in the background on those occasions when she graced us with her thoughts…
Her voice is stilled now, but not forgotten by those of us that knew and loved her.
We hope that she didn't feel pain, for she had felt that most of her short life.
We hope that she is somewhere better than where she has been.
We wish upon the stars in the skies that she can see us now.
We wish that we will see her again someday.
Though we cannot hear her, the echos of the good woman she was, the joy that she brought to her family and friends will be remembered. As will she forever in the hearts of those that had the privilege of knowing her.
Her name on the Collective was Tank Girl.
For us few that called her friend, we will miss you…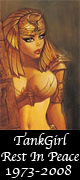 So Long For Now

You look so peaceful lying there
With your hands folded upon your chest.
You look like you are sleeping
But you are at eternal rest.
So Long For Now.
Not a hair out of place,
Your make-up nicely done,
A beautiful smile upon your lips –
For now you are beyond.
When someone special passes on
It does not mean they are gone,
Though they are no longer with us
Their memory still lives on.
It hurts so much to lose a friend –
Especially one that is trustworthy and kind.
You were that special friend,
A rare and special find.
You will always be with me
In spirit and in mind.
You will always have a special place in my heart
Forever until the end of time.
I will not say "Good-bye".
This is not the end.
So I will just say, "So long…"
Until we meet again.
With Love,
Tera