Its Halloween week and for this week's Succubi Image it has to be something special doesn't it?
I think it is.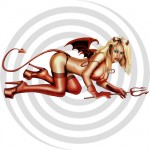 It's a gorgeous image of a Succubus and the hypnotic swirl around her makes it even better…
No idea of who created her, but as always I'd love to know!
Now tomorrow is Halloween of course and I am trying to finish off a Succubi manip for Halloween…
Hopefully…
But I do know that at the least I will have a story up on the Tale and elsewhere…
Tera