Still searching for a Succubi costume for Halloween…
At this point I'll probably wind up doing something sensible for the treat handouts for the kiddies at our door and for the rest of the day…
<smiles>
I think I have an idea that my Eternal will enjoy…
But I am still looking around and came upon an outfit from Lollipop Lingerie that is oddly appealing…
It's called Dare Me…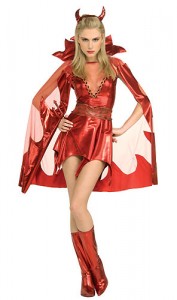 You can find this outfit at their website here.
The quick description on their site reads:
Sexy Devil Costume Set as shown. Classic red devil mini dress, cape and boot tops.
Cost of this outfit is $65.00…
Now if the outfit is as shown, then I assume that the horns are part of this package? That part isn't clear on their site and I'd have to ask them about that part of this…
Do I like it?
I have to say that the one part of this outfit I like is the dress… The rest of it needs some work and of course there is no tail in this outfit…
As a more… Acceptable for public use outfit it's not that bad…
But not 100% there…
Tera