It just gets worse and worse doesn't it?
Is it that hard to create a sexy Succubus outfit?
What is it about costume designers and their inability to get it into their minds that an outfit for a Succubus or demoness, is supposed to look sexy???
Ranting maybe but honestly…
This is sexy?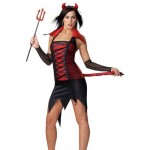 I really can't see this myself…
This outfit is available here for those that are interested in it…
I'm not in the slightest myself…
The description from the site:
Hell-Oh Hotstuff!
This sinful siren will tempt you to take a walk on the dark side this Halloween! The Devil costume includes: A fishnet and Lycra dress with a halter neckline, an attached collar, lace-up bodice, and an attached tail. Fishnet sleevelets, a horn headband, and a glitter pitchfork are also included in this ensemble that makes naughty feel nice. Available in Adult Sizes: Small/Medium and Medium/Large. Includes: Dress/Tail, Sleevelets, Horns, Pitchfork. Shoes and Jewelry are not included.
Cost on this outfit is $46.99.
Just say no I think…
The search continues…
Tera