So I was looking around the Yahoo shopping pages and came across an ad for a Succubus Corset…
You know of course that I have to have at least a look at that…
It's from a site named Wicked Temptations, they are an adult fashions company with a rather large list of items on their site…
And this… This is what they called a Succubus Corset: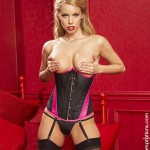 A quick description from their site is:
Every sexy vixen will want to be cinched and laced into this stunningly sexy, cupless rubber-look corset. Features boning, front busk opening, and lace-up back. Garters are detachable. Matching g-string included. Material does not stretch.
Cost is $59.95.
I really don't see the Succubus part of this corset…
Now they also do costumes of various things…
And yes… There are some devilish ones…
Mostly very tacky and blahish to my tastes…
I'm not going to show you all some of the really really tacky ones but just one that will give you a good idea of the… Look? Shall we say?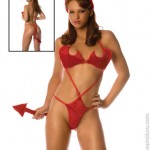 The description:
Sexy Red Hot Devil. The Sultry Devil comes with a red teddy, devil horns, and tail. Devil teddy features strappy details, flaming bra, and thong back.
And it's $21.95.
Not going to be my choice this halloween…
Still looking for the perfect outfit…
Tera