Through a Google group about Devil Girls. I have discovered an artist with an amazing amount of talent…
And he's Canadian too!
His name is Bruce Colero and his website is: www.colero.ca.
And this absolute work of art is called Devildolls2.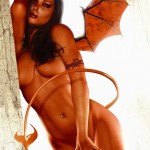 It's just beyond words the amount of detail in this image.. I love the tail and the overall look of the Succubi he has created… You can see the folds and textures of her wings… I love her eyes… Soooo deliciously created…. 
It's something that I would love to own the original painting of…
I invite you to visit his website and browse his remarkable works!
Tera