Sometimes I really have to wonder about what costume designers are thinking about when they create something…
This website has a Demoness Costume on sale.
And here's the image of it… Brace youself…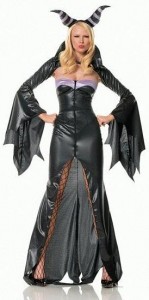 Anyone remember the movie Beetlejuice? See the connection with her horns?
So. What's wrong with this outfit? The horns are just comical really… I'll bet that you are forever putting your hands to your head to hold them steady as you walk around…
The outfit is three pieces which includes the horns, the dress and the shrug…
From behind it looks like this: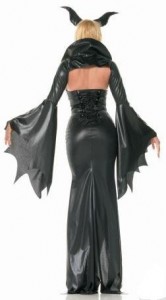 Of course you don't get shoes with this and that's not a surprise really… The whole thing leaves me cold as it's just so tacky looking that I can barely stand it…
For $57.60? And that's on sale from the regular price of $64.00?
Dun think so.
Now of course the question becomes how you could fix this thing…
To start with I'd get rid of the shrug… The collar looks really odd and just takes away from the dress itself. Long red or black latex gloves to replace that would help the look a lot I think. The horns of course also have to go. Change them with a pair of small red or black, depending on the color of your hair of course, horns. Shoes would be to match the gloves and horns for the contrast to the dress itself…
Then we'd have something that was a bit more sexy and obviously demoness / succubish in nature…
But that's just me…
Tera