Sometimes the level of yuck in a costume cannot be explained. I mean, there are some costumes that my first question to the salesperson is, what were you thinking?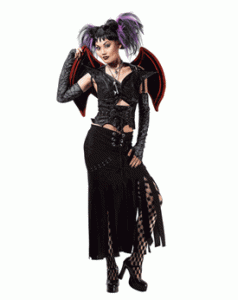 Like this one for example…
I have but one comment on this costume.
Ewwwwwwwwwwwwwwwwww.
No wonder it's being sold at a place that has discount in it's name… Moreover, why is this described as a Succubus costume in the first place? It's not something that any self-respecting Succubus would consider wearing for Halloween I think.
Anyway, this is described as being having black bat wings with red details, a black skirt, arm warmers and corseted top.
The amazing thing is that it is described as being incredibly edgy and dark. Ummm… sure… like a blunt head trauma needs but a bandaid to fix it I suppose…
Originally on sale for $75, it can be found all over the web regrettably for about $35 now.
This gets the first zero pitchforks out of five rating from me.
If you know better, and I think most Succubi do…
Don't buy this.
Tera