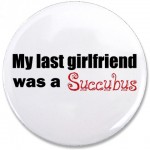 Something cute that I discovered this morning on the Cafepress site…
That link is here.
As always I am providing this link to the item in question without any financial connection to myself or to Succubus.net.
Someone sent me a note asking if I received something for the occasional item posting, and I wanted to state for the record that I don't get a thing for them…
If it strikes me as something i would probably buy, I'll post something in the Tale about it…
Hope you have a good weekend!
<huggles>
Tera