So… They finally managed to get to having a Succubus appear on the TV series Reaper…
The official description of the episode is:
#1-18 "Cancun"
Air Date: Tuesday, May 20 at 9PM on The CW
Written By: Michele Fazeka, Tara Butters & Tom Spezialy
Directed By: Stephen Cragg
TONY AND THE DEMONS SET A TRAP FOR SAM — The demons target Sam (Bret Harrison) when they fear he may pose a greater threat to their rebellion than the Devil (Ray Wise) himself. A treacherous trap is set, bringing surprising allies to Sam's side and leading to shocking revelations that could have explosive implications for his future. Meanwhile, Sock (Tyler Labine) falls for a demon (guest star Cindy Sampson). Missy Peregrym, Rick Gonzalez, Valarie Rae Miller, Donovan Stinson and Andrew Airlie also star. Stephen Cragg directed the episode written by Michele Fazekas & Tara Butters & Tom Spezialy (#118).
Now in the description Cindy is described as a demon, but in fact she is a Succubus…
Specifically this note elsewhere about her:
Moreover, Sock gets the time of his life when he kisses a demon!  She warns him of the danger of kissing a succubus like her, as every kiss takes a year off his life.  Sock is definitely torn, and he'll have to choose between living longer and having the greatest kisses of his life.  Cindy Sampson guest stars as the succubus.
An image of Cindy: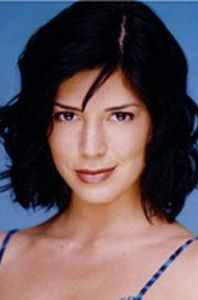 Just one note about the Succubus….
NO TAIL DARN IT!!!!
<sighs>
Not to mention that her overall abilities to act as a Succubus are garbage, she shows no sensuality save for a really bad music track when she appears, doesn't tease or play with "Sock" (What a stupid name honestly) as a Succubus should, dresses in outfits that just about make me gag …
Can you tell that I wasn't impressed with her?
Oh! Something else!
IF they are going to bring her back… Will you PLEASE FIX HER HAIR!!!
<sighs>
Tera