It's just an amazing image really…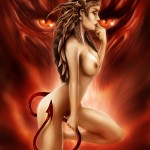 I have no information on the artist or if there are more images like this but I would love to know because it's just amazing!
Update!
Special thanks to Lady DarkRaven, who posted this information on the Tale about this image:This image is by Toxic Angel from over at the Renderosity Digital Art Community. It is part of his series entitled 'Devil's Mistress'. You can the artist's online gallery at renderosity.com here.
Tera