Thank you for over 12.4 million views of the SuccuWiki!
Zatanna 14 (Comic Book)
From SuccuWiki - The Wiki of the Succubi

For other uses of the word Succubus, see Succubus (disambiguation).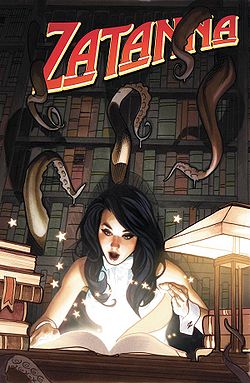 Zatanna is a comic book series published by DC Comics. The title character Zatanna's powers are grounded in magic and the supernatural. As such, her series reflects this point of her existence and she does battle with other supernatural beings. In the 14th issue of the series, released on June 22, 2011, a yuki-onna appears to battle Zatanna. This event is completed within the issue, known as a one-shot event. The summary of the issue, as released by DC Comics is not consistent with the actual events of the issue it should be noted.
Overview
Title: Zatanna - Issue 14
Writer: Adam Beechen
Publisher: DC Comics
Rating: Teens Plus
Cover Price: $2.99 USD
Release Date: June 22, 2011
Synopsis
Zatanna's struggle against Brother Night forces the Maid of Magic to reach into the darkest places for a mystic edge in battle. But now that she's fighting as dirty as Night, will Zatanna's own soul be lost in the process?
Succubus
The succubus in this issue is not the classical version of one, but is instead a yuki-onna. She is however not portrayed as those beings are in Japanese legends. In this case she acts to seduce men in a nightclub and then drain them. The yuki-onna encounters Zatanna and her cousin, ensnares Zachery in her tentacles, and Zatanna must battle her.
While her human form is highly sexual in nature, being that of a raven haired woman, her true form retains aspects of it, but is nothing like the classical Succubus form or the yuki-onna one.
In the end, the yuki-onna is defeated and vanishes with no explanation.
External Links