Witchin' (eBook)
From SuccuWiki - The Wiki of the Succubi
Witchin'



Witchin' eBook Cover, written by Amy Manuwal

Author(s)
Amy Manuwal
Publisher
Amy Manuwal
Publication date
May 20, 2012
Media type
wBook
Length
198 Pages
ISBN
9781476351247
ASIN
B008LP4O9E
For other uses of the word Succubus, see Succubus (disambiguation).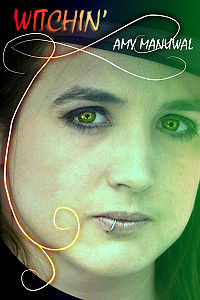 Witchin' is an eBook written by Amy Manuwal. In this work, one of the main characters is a Succubus and several minor characters are Succubi as well.
Overview
Title: Witchin'
Author: Amy Manuwal
Published By: Amy Manuwal
Format: eBook
Length: 198 Pages
ISBN: 9781476351247
ASIN: B008LP4O9E
Publishing Date: May 20, 2012
Plot Summary
Sixteen year old Wren finds out she's a witch after her mother's tragic death. She finds out that she has a soulmate, "Mr. Popular" who she falls for even though she tries to resist. An evil witch with a grudge against Wren's family sends a Succubus after Wren's soulmate. With the help of her family and friends Wren must save him from his impending doom.
Book Review
At the time of this article's entry in the SuccuWiki, no review was available. Tera has purchased this work and will review it as soon as possible.
External Links