Thank you for over 9.3 million views of the SuccuWiki!
Whispers of the Flesh
From SuccuWiki - The Wiki of the Succubi

For other uses of the word Succubus, see Succubus (disambiguation).

Whispers of the Flesh is a novel written by Louisa Burton. It is part of the Grotte Cachée Series. In this series, there is a major character named Lili, whom is a succubus.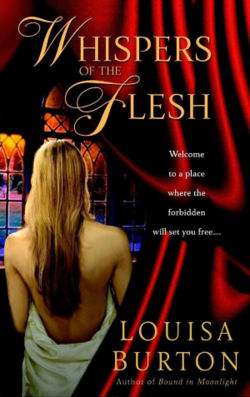 Book Details
Title: Whispers of the Flesh
Author: Louisa Burton
Format: Paperback
Pages: 320
Publisher: Bantam
Language: English
ISBN-10: 0553385305
ISBN-13: 978-0553385304
Release Date: September 30, 2008
Other novels by Louisa Burton on SuccuWiki
Book Synopsis
In this irresistibly seductive new book, Louisa Burton extends her most provocative invitation yet to the infamous Castle of the Hidden Grotto—a voluptuous sanctuary of pleasure and passion.
Hidden in a deep mountain valley in rural France is an ancient castle known only to an exclusive few. Here, four exquisitely beautiful immortals who thrive on carnal energy captivate and ravish their human visitors, fulfilling their darkest fantasies, their most secret hungers.
A chaste young British Jesuit poses as a landscaper to investigate centuries of rumored wickedness at the château, forcing him to confront the long-sublimated desires and urges seething beneath his own pious exterior.... The American daughter of the château's dying administrator can't bear the thought of succeeding her father, since it would mean playing matchmaker to the love of her life. The roots of her dilemma, and its possible solution, hark back to a weekend in 1972 when a group of free-loving hippies descended on the château for a few days of orgiastic revelry, where every convention was broken and nothing was taboo.
Step into the Castle of the Hidden Grotto and lose yourself in a realm of mystery, temptation, and intoxicating sensuality.
Book Review
The following review is taken from the Amazon.com link in the External Links below:
5 out of 5 stars
There's nothing inherently dirty about sex, but if you try real hard and use your imagination you can overcome that.
Reviewed By: Cherise Everhard
Reviewed On: October 2, 2008

Enter into the Château de la Grotte Cachée (the castle of the hidden grotto), a secluded castle in France. It is the administrateur's job to provide carnal nourishment for the immortals or Follets, which live there; a djinni (shape shifter), a Nordic elf, the Goddess of the new moon and a satyr. Sex from mortals is something they can't live without. But because of their delicate status, they also require a protection and privacy of sorts. This book contains two stories detailing different individuals' experiences at the Grotto at different times.
Certain Devils - Elic, the Nordic elf who can change from man to woman, and Lili, the Goddess of the new moon and succubus, have been a couple for hundreds of years. One of Elics immortal quirks is that he can't have sex with another immortal/Follet. He and Lili have learned to work around that, mostly by bringing mortals into their bed. Over the years they have shared hundreds of lovers.
When David Beckett, a Jesuit demon hunter, shows up at the Grotto disguised as a landscape artist, Lili is not only physically attracted to him, but finds herself besotted with the young man. This brings out the jealousy in Elic and causes problems in their comfortable love life.
Satisfaction - Isabel's father has been the adminstrateur to the Chateau and the Follets for many years. It is a family tradition that has been past down from one generation to the next. He is dying now and is content because he thinks that his daughter is going to take over his post. She's not. Part of the job involves finding mortal playmates for the Follets; the other part involves finding a gifted woman to make a marriage/love match for the guardian of the Follets, Adrien, so that he can produce more gifted children that can carry on the family tradition. Isabel won't do this job because she has been in love with Adrien since they were teens. She knows she can't have him, that doesn't mean that finding someone for him to have is something easy for her to do.
This story weaves a present day Grotto story with a glance back to the Grotto in the 1970's when Isabel's mother and father met. It is also a continuation from the last story in the second book of the series.
I loved the second book, Bound in Moonlight, I found it a highly entertaining and sexy read. However, this book surpasses that, easily. All the elements that I loved in the first book are here; steamy sexual encounters, fascinating chateau guests and the charming and playful follets. What's not in this book is an overload of the bondage and S&M type lovin' that got a little too much for me in the previous book.
Her sex scenes in both books are excitingly explicit and gratifyingly graphic. But her storylines in this one are by far her best. In this book she added more detail and emotions to the characters, making them come alive. It's definitely still a highly erotic tale, but this time you get a more captivating story and the characters mean more to you; definitely a bonus.
In between the pulse accelerating sex scenes I actually found myself laughing and crying a few times. She added a bit of romance and heart to some of the sex this time around. Whispers of the Flesh is everything I love about Erotica; a seamless blend of flesh, fantasy and reality.
Cherise Everhard, October 2008
External Links