On May 4, 2016, the 3,900th article was added to the SuccuWiki!
While Santa's Away - A Succubus Short
From SuccuWiki - The Wiki of the Succubi
This page is currently in creation and being actively worked on as a new article through a succession of edits. To help avoid confusion, the creator asks that for a short time this page not be taken as complete owing to its early stage of development.
A history of edits of this page can be found here.
For other uses of the word Succubus, see Succubus (disambiguation).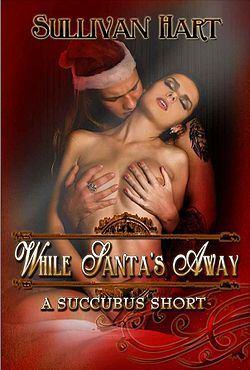 While Santa's Away - A Succubus Short is an eBook written by Sullivan Hart. It is the fifth book in a series of short stories about succubi called Succubus Shorts by various authors. In this work the character Jazz is a succubus, and the work is a sequel to the story Co-Workers With Benefits.
Overview
Title: While Santa's Away - A Succubus Short
Author: Sullivan Hart
Published By: Smashwords and Amazon Digital Services
Length: 8 pages
Format: eBook
ASIN: B006CRHA62
Publishing Date: November 22, 2011
Other Works in this series on SuccuWiki
Plot Summary
The North Pole, bastion of goodness and kindness, may not be all it seems. And on Christmas Eve, while Santa is off delivering his toys, Jazz and Asher-Khan, sex demon pair from way down under, will visit to bring their own particular form of kinky cheer to the elves.
But Jazz, always one to take on the most difficult jobs, has one more thing to accomplish before the return of Santa and the dawn of Christmas morning traps them in the workshop until next year. And it involves Santa's naughty niece and a special surprise gift for her partner…but what does an incubus really want for Christmas?
Book Review
At the time of this article's entry in the SuccuWiki, no review was available. Tera has purchased this work and will review it as soon as possible.
External Links