Thank you for over 17.2 million views of the SuccuWiki!
When Pleasure Rules
From SuccuWiki - The Wiki of the Succubi

For other uses of the word Succubus, see Succubus (disambiguation).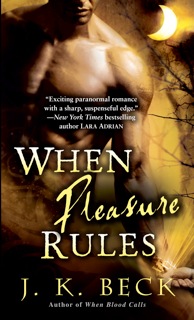 When Pleasure Rules is a novel written by J.K. Beck. It tells the story of a Succubus named Lissa Monroe and her mission to try and stop a supernatural war in her world. It is the second of three novels in this series. The series consists of the works: When Blood Calls, When Pleasure Rules, and When Wicked Craves.
Overview
Title: When Pleasure Rules
Author: J.K. Beck
Published By: Bantam
Format: Mass Market Paperback
Length: 448 pages
ISBN-10: 0440245788
ISBN-13: 978-0440245780
Publishing Date: September 28, 2010
Plot Summary
Seven innocents have been brutally murdered in Los Angeles, yet the Shadow Alliance has no suspects and no leads. As the body count mounts, the age-old feud between vampires and werewolves threatens to explode.
Lissa Monroe—a strong-willed, ravishing succubus who entices men to surrender their souls—agrees to go undercover for the Alliance. Her mission: infiltrate the mind of werewolf leader Vincent Rand, a ferociously alluring enemy who exerts a powerful hold over her. As the City of Angels teeters on the brink of apocalypse, these two adversaries must join together in order to survive an even more lethal enemy hidden in plain sight.
Book Review
The following review is from the Amazon.com link in the External Links below:
5 out of 5 stars
Excellent!!
Reviewed On: September 30, 2010
Reviewed By: LeeAnn Pratt
This book only took me 2 1/2 days to read! Absolutely loved it!
Vincent Rand is a Weren, he is sent by Gunnolf, the liaison Weren for the Alliance to find who is spreading lies about werewolves killing humans, and if necessary take care of the problem. He must also find out who is responsible for the deaths and make the guilty pay... if at all possible.Lissa owns Orlando's ,a club that trades souls. She meets Rand and they are immediately attracted to each other. The trouble that comes to them, they must fight together. The love they feel for each other helps to heal Rand's soul.The friendships that emerge in this story are wonderful, sadly some may not be as lucky. Betrayal, murder, heart and soul healing. A wonderful book and a story that makes you want more... NOW! I highly suggest this book and can't wait for the 3rd... When Wicked Craves.
External Links