Thank you for over 17.1 million views of the SuccuWiki!
When Blood Calls
From SuccuWiki - The Wiki of the Succubi

For other uses of the word Succubus, see Succubus (disambiguation).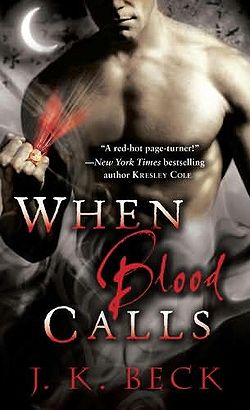 When Blood Calls is a novel written by J.K. Beck. It is the first of three novels of a series that in part tells the story of a Succubus named Lissa Monroe and her mission to try and stop a supernatural war in her world. The series consists of the works: When Blood Calls, When Pleasure Rules, and When Wicked Craves.
Overview
Title: When Blood Calls
Author: J.K. Beck
Published By: Bantam
Format: Mass Market Paperback
Length: 416 pages
ISBN-10: 044024577X
ISBN-13: 978-044024577380
ASIN: B003EY7ICM (Kindle Edition)
Publishing Date: September 28, 2010
Plot Summary
Attorney Sara Constantine is thrilled with her promotion—until she finds out that she must now prosecute vampires and werewolves. The first defendant she'll be trying to put away? Lucius Dragos, the sexy stranger with whom she recently shared an explosive night of ecstasy.
When Lucius kisses a beautiful woman sitting next to him at the bar, he's hoping only to avoid the perceptive gaze of the man he's planning to kill. But what starts as a simple kiss ignites into an all-consuming passion. Charged with murder, Luke knows that Sara is determined to see him locked away—unless he can convince her that he's not a monster. And that might mean making the ultimate sacrifice.
Book Review
The following review is from the Amazon.com link in the External Links below:
4 out of 5 stars
Great start to a new series
Reviewed On: August 31, 2010
Reviewed By: Stephanie G "Paranormal Haven"
Prosecutor Sara Constantine has just won a major case and while out celebrating, she is swept into the arms of a handsome stranger who she spends one incredible evening with. A couple days later she finds she has been promoted to the secretive Division 6 where she will now prosecute the criminals of the paranormal world. Before she can truly recover from the shock of learning she lives amongst werewolves and vampires, she finds that for her first case, she will be up against Lucius Dragos. The man who gave her a night to remember in his arms is now on trail for a heinous crime.
Lucius never expected to feel the way he does about Sara but she sooths his daemon like none have before. He knows that she is exceptional at her job and will do what she must in order to win her case and convict Lucius of murder. He will need to convince Sara that he is not the monster she sees him as but a man who will do what is necessary to protect what is his.
Sara is a strong woman who believes in the justice system even though she personally knows that sometimes the truly guilty sometimes slip through the crack. At first she sees things in black and white but with the arrival of Lucius in her life, she starts to see more in grey. At times it did feel like she was a little too easily swayed by Luke and the lust she felt towards him. While she does loosen to the idea that sometimes justice needs to be taken by others, she does not fully give up what she believes in and will continue to fight for victims. Luke is very much the opposite. As a member of the Alliance (a paranormal organization outside the law that steps in when the system has failed) he doesn't think twice about taking down a killer. He is fiercely protective of those close to him and seeks retribution when someone dares to harm his own. He is a deadly, passionate character and you can feel that he intimidates those around him. While I liked both their characters individually, together I just didn't feel the connection. There were some steamy scenes but other than that, I just didn't get it. I believed he cared for her but I didn't feel the deep love they say they felt.
Tasha was a interesting character. She is Lucius' ward and is basically a bit crazy. She has the mind of a child but you know there is more to her than she lets on. Nicholas Montegue is a character that you know is more than what he seems. He is Luke's lawyer and beneath his angelic face you know there is a powerful man who is hiding something. I'd love to get to know more about Nick and what his secrets are.
The world that is built in When Blood Calls is interesting but at times a bit much. There are a lot of names and creatures that are thrown in and it was confusing at times. Some of it felt unnecessary. What I did like what that there was structure to the paranormal world. In some books there is a free far all and no type of system to keep the paranormal in check. Even though they weren't always followed, there are laws and restrictions set. I especially liked the public theater where those guilty were executed. It was how I picture a paranormal justice system in action. Overall, When Blood Calls was full of suspense, testosterone fueled action and a good dose of romance. It was a great start to a new series.
External Links