Thank you for over 9.3 million views of the SuccuWiki!
Werewolf Sex Slave
From SuccuWiki - The Wiki of the Succubi

For other uses of the word Succubus, see Succubus (disambiguation).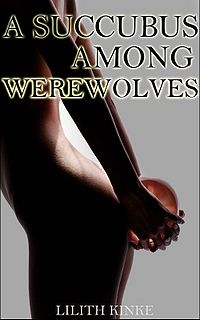 Werewolf Sex Slave is a short eBook written by Lilith Kinke. In this work, the main character Delilah is a Succubus. It is the second short story about this Succubus character, the first was published in the work Daddy, I Think I'm a Succubus. When it originally appeared on Amazon, this work was titled A Succubus Among Werewolves, but the following day the title and artwork had been changed to its current form. The work also appears in the compilation anthology Succubus Sex Stories.
Details
Title: Werewolf Sex Slave
Author: Lilith Kinke
Format: eBook
Publisher: Amazon Digital Services
Language: English
ASIN: B00727EMC6
Release Date: January 26, 2012
Other Works in this series on SuccuWiki
Synopsis
Delilah is a bounty hunter succubus with special powers of lust, and she's looking to take down a pack of sexy werewolves. But when they get their hands on her, it's they who turn the tables on her.
Book Review
At the time of this article's addition to the SuccuWiki, there was no review available.
External Links