Thank you for over 9.3 million views of the SuccuWiki!
Warrior Demoness
From SuccuWiki - The Wiki of the Succubi

For other uses of the word Succubus, see Succubus (disambiguation).

For other uses of the name Lilith, see Lilith (disambiguation).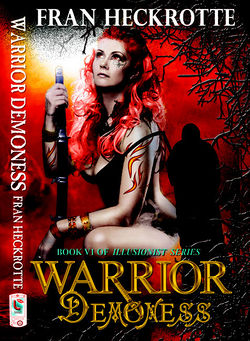 Warrior Demoness is an eNovel written by Fran Heckrotte. It is the sixth book in the author's series called the Illusionist Series.
Book Details
Name: Warrior Demoness
Author: Fran Heckrotte
Language: English
Publisher: L-Book ePublisher
eReader ISBN: 978-1-934889-25-1
Release Date: June 15, 2009
Summary
She was Sabnock, a demon, who like the Phoenix, lived and died many times because she chose to live amongst mortals rather than spend eternity babysitting the legions of the Underlord. There were no longer battles to be fought in the Underworld so the ex-commander left her realm to live with the humans as human.
Falling in love, she now had to choose between her vow to live and die as a mortal or love and live as a demon, not knowing if her lover could accept the truth. The wrong decision would condemn her to a life of loneliness—and for a demon life was eternity.
Book Review
At the time of this article's entry in the SuccuWiki, a book review was not available. TeraS has this novel on her reading list and will add a review when she is able.
Other Novels by Fran Heckrotte on SuccuWiki
External links