Thank you for over 9.3 million views of the SuccuWiki!
Vengeance (Novel)
From SuccuWiki - The Wiki of the Succubi

For other uses of the word Succubus, see Succubus (disambiguation).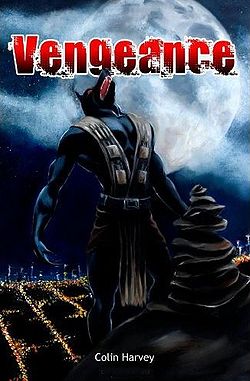 Vengeance is a novel written by Colin Harvey. In this story, a succubus appears to threaten the main characters of the story.
Overview
Title: Vengeance
Author: Colin Harvey
Publisher: Lulu.com (Paperback), Swimming Kangaroo Books (Kindle Edition)
Length: 220 Pages
Format: Paperback and Kindle Editions
ISBN-10: 141166874X (Paperback)
ISBN-13: 978-1411668744 (Paperback)
ASIN: B001BXWM2E (Kindle Edition)
Publishing Date: July 16, 2006 (Paperback), June 6, 2008 (Kindle Edition)
Plot Summary
Jocasta Pantile needs a case to keep the bailiffs from the door. Stanislav Duff needs someone to find his prize spells. They make the ideal client and enquiry agent, especially with Jocasta's prize asset, the genetically-engineered Spellhound.
The trouble is that when she finds them, Duff intends to kill the thief and his accomplices. Jocasta doesn't much like his plan, but knows that if she doesn't find them, Duff may kill her instead.
If he doesn't kill her anyway; she knows too much about him for her own good.
Neither of them realize just how far Duff's desire for Vengeance will take them....
Critical Reviews
The following review is taken from the Amazon.com link in the External Links below:
5 out of 5 stars
How far would you go for vengeance?
Reviewed On: April 20, 2009
Reviewed By: Jay Bell
Vengeance is a very smart novel. Harvey doesn't take his reader gently by the hand. Instead he shoves them directly into a sprawling world, one brimming with contrasting landscapes and curious characters. There's everything a reader could want; magic-wielding beasts, high science, time travel, political intrigue, surprising twists, and even a few all out brawls. I highly recommend this story to fans of both fantasy and science fiction who are tired of having simplistic plots spoon fed to them. If you are seeking a wholly original story written by a fresh and talented voice, then this is the book for you.
External Links