On May 4, 2016, the 3,900th article was added to the SuccuWiki!
Ungulates Devil Figurine (Embrace Japan)
From SuccuWiki - The Wiki of the Succubi
Diabolus Ungulate
Ungulates Devil



Ungulates Devil Figurine by Embrace Japan

Figure Name
Ungulates Devil
Manufacturer
Embrace Japan
Sculptor
Tsukada Takashi
Scale
275 mm (10.73 inches)
Material
PVC
Production Run
Standard Production Run
First Released
June 13, 2012
Cost
10,000 Yen
No Longer Available
For other uses of the word Succubus, see Succubus (disambiguation).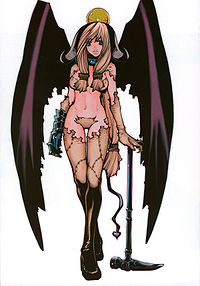 Ungulates Devil, also known as Diabolus Ungulate is a pre-painted and fully assembled PVC model of an original succubus or devil girl character called Ungulates Devil manufactured by Embrace Japan. The figurine was created by Soushi Hirose and the figurine was sculpted by Tsukada Takashi.
Details
Name: Diabolus Ungulate / Ungulates Devil
Illustrator: Soushi Hirose
Sculptor: Tsukada Takashi
Manufactured by: Embrace Japan
Scale: 275 mm (10.73 inches)
Type: PVC
Standard Production Run
Price: 10,000 Yen
Release Date: June 13, 2012
External Links