Thank you for over 5.1 million views of the SuccuWiki!
Unexplained Mysteries - Succubus
From SuccuWiki - The Wiki of the Succubi

For other uses of the word Succubus, see Succubus (disambiguation).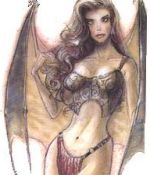 Succubus
Category: Spirituality

According to Medieval theology, Succubus was a Demon or Goblin, that upon taking on the form of a human female would attempt to have sex with men, usually while they were asleep. The male counterpart of Succubus was Incubus.

Recommended Further Reading
A Field Guide to Demons, Fairies, Fallen Angels and Other Subversive Spirits by Carol K. Mack
Biblical Demonology: A Study of Spiritual Forces at Work Today by Merrill F. Unger
Demonology, Past and Present: Identifying and Overcoming Demonic Strongholds by Kurt E. Koch
Article Copyright© 2001-2008 unexplained-mysteries.com
External Link
The original source of this article is here.