Thank you for over 5.1 million views of the SuccuWiki!
Try Me (Paperback)
From SuccuWiki - The Wiki of the Succubi

For other uses of the word Succubus, see Succubus (disambiguation).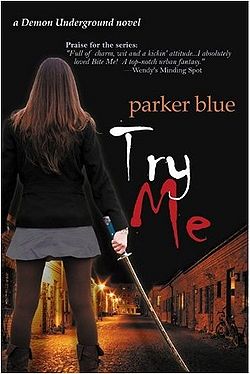 Try Me is a novel written by Parker Blue. It is the second novel in the Demon Underground series by this author. In this series, the main character Val Shapiro is part Succubus, that part of her having the name of Lola in the story.
Details
Title: Bite Me
Author: Parker Blue
Format: Paperback and eBook formats
Publisher: Bell Bridge Books
Length: 218 Pages
Language: English
ISBN-10: 9780984325665
ISBN-13: 978-0984325665
ASIN: B005BTLGIK
Release Date: February 19, 2010
Other works in this series on SuccuWiki
Synopsis
This part-demon teen vampire fighter and her faithful terrier hellhound are once again patrolling the dark city streets of San Antonio, Texas. Val's hunky human partner, Detective Dan Sullivan, is giving her the cold shoulder since she beheaded his vampire ex-fiancée. Vamp leader Alejandro is struggling to keep the peace between vamps, demons and humans. The mucho powerful Encyclopedia Magicka has been stolen, someone in the Demon Underground is poisoning vamps, and Val's inner lust demon, Lola, is getting very restless since Val's now partnered with sexy Shade, the shadow demon with the blond good looks of an angel.
Book Review
The following review is from the Amazon.com listing in the External Links below:
4 out of 5 stars
Fantastic Follow Up
Reviewed On: April 14, 2010
Reviewed By: Kindle-aholic

As soon as I finished "Bite Me", I had to get the next installment. Very good second book. We get to see more of the Demon Underground, meet more demon descendents, and get a new love interest for Val. I have to say that I was glad that Dan moved to the background. I was interested in Shade as a character in the first book, and glad to see more of him in this one. Of course, Fang is right in the middle of everything, and I wouldn't want it any other way. Fun book in a fun series, and looking forward to more.
External Links