Thank you for over 5.1 million views of the SuccuWiki!
Tongue of the Succubus
From SuccuWiki - The Wiki of the Succubi

For other uses of the word Succubus, see Succubus (disambiguation).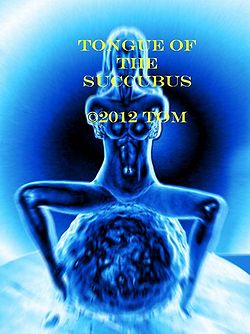 Tongue of the Succubus is an eBook written by Tom A. Schafer. In this work, one of the main characters is a Succubus. This work originally appeared in 2008 on the Author's Den website and was released as an eBook in 2012 on Amazon. That release had the title of the work misspelled as Tounge of the Succubus.
Overview
Title: Tongue of the Succubus
Author: Tom A. Schafer
Published By: Amazon Digital Services
Length: 3,500 Words
ISBN: B009AML6GQ
Publishing Date: September 13, 2012
Plot Summary
Thomas sleeps and in his dreams comes a Succubus...
Book Review
At the time of this article's entry in the SuccuWiki, no review was available. Tera has purchased this work and will review it shortly.
External Links