Thank you for over 9.1 million views of the SuccuWiki!
Tired of Death.(Novel)
From SuccuWiki - The Wiki of the Succubi

For other uses of the word Succubus, see Succubus (disambiguation).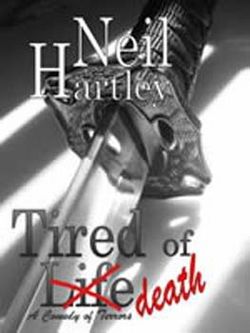 Tired of Death. is a novel by Neil Hartley. In this story, there is one succubus that appears in one scene with the main characters of the story. She acts as a receptionist for one of the major dark powers, named The Dragon Master, that the characters face.
Overview
Title: Tired of Death.
Author: Neil Hartley
Publisher: lulu.com
Length: 372 Pages
Format: Paperback
ISBN-10: 1435724704
ISBN-13: 978-1435724709
Publishing Date: June 25, 2008
Plot Summary
How many times have you hacked down a zombie without thinking about it? Ever wondered who the shadowy force is behind that dungeon? Spared a thought for the poor denizens sat around in chilly Crypts waiting for the next victim?
No?
Perhaps it's time to see the story from the other side...
Follow Dreth's adventures through the dungeon and beyond, to learn the ultimate secret behind his curse!
Critical Reviews
At the time of this article's entry in the SuccuWiki, no review was available.
External Links