Thank you for over 4 million views of the SuccuWiki!
This Creature Fair
From SuccuWiki - The Wiki of the Succubi

For other uses of the word Succubus, see Succubus (disambiguation).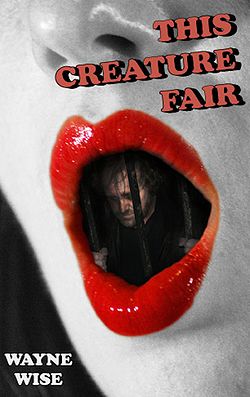 This Creature Fair is an ebook written by Wayne Wise. In this work the character Morrigan Blue is a Succubus and plays lead singer in a band called SuccuBliss.
Overview
Title: This Creature Fair
Author: Wayne Wise
Publisher: Wayne Wise
Format: eBook
ASIN: B005JPT4J4
Length: 242 Pages
Publishing Date: August 27, 2011
Plot Summary
Everyone has had a long-distance crush on a celebrity. We fall in love with the image of a movie star, a rock star, a sports figure; little crushes that are cute when you're young and embarrassing when you're older.
Forty-year-old Nick Chambers is a fan of an obscure British musician named Morrigan Blue. She's beautiful, with a sexy voice and a sensuous stage presence. He knows it is just a crush, one of many in his years as a music fan.
What happens when you get a chance to meet your hero? What happens when the attraction is returned? What happens when the object of your affection begins stalking you?
What if she isn't exactly human?
Critical Reviews
No reviews were available at the time of this article's addition to the SuccuWiki. Tera has purchased this work and will review it as soon as possible.
External Links