Thank you for over 9.3 million views of the SuccuWiki!
The Zero Dog War: Zero Dog Missions, Book 1
From SuccuWiki - The Wiki of the Succubi

For other uses of the word Succubus, see Succubus (disambiguation).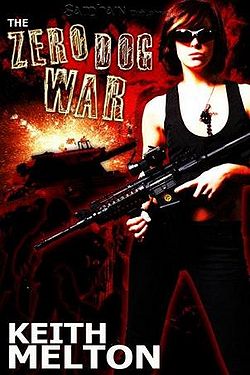 The Zero Dog War: Zero Dog Missions, Book 1 is an eNovel written by Keith Melton. In this humorous work, one of the main characters named Tiffany, is a sexually repressed Succubus.
Overview
Title: The Zero Dog War: Zero Dog Missions, Book 1
Author: Keith Melton
Publisher: Samhain Publishing, Ltd.
Format: eNovel
ASIN: B004H1TU3Q
ISBN-13: 978-1-60928-364-3
Length: 239 Pages
Publishing Date: February 15, 2011
Plot Summary
After accidentally blowing up both a client facility and a cushy city contract in the same day, pyromancer and mercenary captain Andrea Walker is scrambling to save her Zero Dogs. A team including (but not limited to) a sexually repressed succubus, a werewolf with a thing for health food, a sarcastic tank driver/aspiring romance novelist, a three-hundred-pound calico cat, and a massive demon who really loves to blow stuff up.
With the bankruptcy vultures circling, Homeland Security throws her a high-paying, short-term contract even the Zero Dogs can't screw up: destroy a capitalist necromancer bent on dominating the gelatin industry with an all-zombie workforce. The catch? She has to take on Special Forces Captain Jake Sanders, a man who threatens both the existence of the team and Andrea's deliberate avoidance of romantic entanglements.
As Andrea strains to hold her dysfunctional team together long enough to derail the corporate zombie apocalypse, the prospect of getting her heart run over by a tank tread is the least of her worries. The government never does anything without an ulterior motive. Jake could be the key to success…or just another bad day at the office for the Zeroes.
Book Review
The following review is from the Amazon.com link in the External Links below:
4 out of 5 stars
LOL awesomeness!
Reviewed On: February 20, 2011
Reviewed By: Dee18
`The Zero Dog War' is the first book in a new paranormal-action series from Keith Melton.
The Zero Dogs are a bunch of paranormal mercenaries. There's the permanently horny werewolf, Rafe. Shy succubus Tiffany. Wannabe ninja, Hanzo. Furry-demon lover, Mai. Demonic `Sarge' and emotionally stunted empathy, Gavin. This rag-tag team of supernatural's is lead by pryomancer, Captain Andrea Walker. It's up to Andrea to keep this team in one-piece, a task that is becoming increasingly difficult when funds start dwindling.
Just when it looks like Andrea and the team are on their last round of bullets, the perfect job comes their way. A government-funded task to dispense of a maniac necromancer whose trying for world-domination through gelatine-making-zombies. But there's a FUBAR-catch... The Zero Dogs have to welcome a green beret by the name of Captain Jake Sanders into the team. The Dogs don't really play well with others - especially not stuck-up Army brats like Jake. Andrea is finding it especially difficult to welcome Jake into the fold, because all she wants to do is get hot n' steamy with his green-beret-butt.
But there is a zombie herd to destroy and jell-O to blow-up. Just another Dog Day . . .
I loved this book! It's like `The Expendables' meets `Supernatural' in a raucously riotous thrill-ride. Keith Melton writes an absurd mix of heavy-duty action and hilarious quips.
The book is told from Andrea's perspective, as well as evil necromancer overlord, Jeremiah. Normally I dislike dual-perspectives, especially when one is from the villain. But Keith Melton has written such a balls-out funny villain in Jeremiah that I welcomed the narrative shift. Jeremiah was hilarious as an evil overlord who employs a PR person to help with his world take-over and image problem (but who denies him sexy ninja nurses as his bodyguard team).
Andrea was an equally amusing narrator. She's one tough chick who rocks combat boots but dreams of Jimmy Choo's. She loves her team and would do anything to keep them safe and in fatigues. Her world is rocked by the appearance of Captain Jake Sanders, a man who inspires lusty day-dreams and commandment insecurities. I liked the idea of Andrea and Jake . . . but I didn't read enough sexual tension between them. I wish that Melton had written more scenes for them, because the `daydream' to `actual interaction' ratio was a little out of whack for me. I thought there was too much of Andrea thinking about Jake, and not enough of her and Jake actually exchanging heated quips and lusty banter. But that's my only small complaint in a whole book of awesome.
Without a doubt the best thing about the new `Zero Dog Missions' series is the cast of maniacally quirky characters. By themselves this cast of supernatural misfits would be hilarious - shy succubus, horny werewolf and douche-bag empathy . . . but Melton has made them even cooler and funnier by having them blow stuff up and have the fate of the world in their hands. Surprisingly awesome.
I cannot wait for more books in the `Zero Dog Missions' series. I really hope that the next instalment focuses on Rafe, and his search for his werewolf mate (a search that requires he be naked as much as possible). `Zero Dog War' is one of the best new supernatural books I have read in a long time - explosions, jell-O, zombies and a permanently naked werewolf - a whole lot of LOL awesomeness.
The following review was published by Tera on her Blog - A Succubi's Tale on December 11th, 2011
This work has it's moments of silliness and fun mixed with occasional seriousness and, just once, disaster. That's not bad things and it kept my interest through all that the characters went through, but this review isn't so much about the book as the Succubus that appears in it.
Her name is Tiffany, she is a Succubus, but oh my is she a shy, lost thing indeed…
Tiff as she is mostly known as, looks like a Succubus. She has wings, odd looking eyes and is the focus of attention for men and, unfortunately, hated by most women save for Andrea who tries very hard to get Tiff out of her shell, but in the end that's not the point of the story and so we lose Tiff in the woodwork for the most part.
It bothers me that the author clearly states in the story that Succubi are, in a way, related to vampires, something that always bothers me. She has pale skin and dark hair, which has echos of vampires, but her eyes and her wings set her apart from vampires, which is a good thing really.
As much as the author has a lot for their characters to do in the story, I found that Tiff really did not appear as much as I would have liked her to. I think that was partly to her role in the group, mainly watching from afar and above, which just seemed to lessen her effect I thought.
Still, the story was interesting, if a bit more violent than I would have liked to see. There was no sex in the story, which was a good thing considering the number of zombies that appear in it. So it became something of an action adventure with a supernatural angle to it.
Not a bad beginning to what appears to be a series based on these characters really, though I do wonder where the story goes after the way it ended.
Three pitchforks out of five.
Not enough Tiff, too much zombie for me…
External Links