Thank you for over 12.9 million views of the SuccuWiki!
The Succu-Bundle
From SuccuWiki - The Wiki of the Succubi

For other uses of the word Succubus, see Succubus (disambiguation).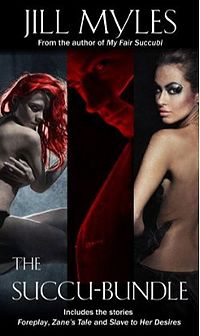 The Succu-Bundle is an eBook written by Jill Myles and is part of the Succubus Diaries book series. It is a collection of three of this author's short stories in the Succubus Diaries universe: Foreplay, Zane's Tale and Slave To Her Desires
Book Details
Title: The Succu-Bundle
Author: Jill Myles
Format: eBook / Novella
Publisher: www.jillmyles.com
Language: English
ASIN: B004XJ52PC
Release Date: April 20, 2011
Other novels by Jill Myles on SuccuWiki
Book Synopsis
Three Tales in the Succubus Diaries World:
Foreplay - A Succubus Diaries Prequel: How did Jackie Brighton get turned into a succubus? She can't remember - all she knows is that she woke up in a Dumpster. This short story tells the tale of that night, and sheds a little light on her masters' motivations.
Zane's Tale - Zane has a few changes in his life...but is the vampire happy with his choices? Or does he regret the path he has chosen and the succubus he has left behind? This story takes place between the end of Succubi Like It Hot and the start of My Fair Succubi. You do not need to read it to enjoy the series.
Slave To Her Desires - Immortality is not always a blessing. Turned into a succubus against her will, Olivia Rhodes has lived the past 120 years as a slave to her cruel and vindictive vampire master. She's escaped him, but he's closing in fast. Her only hope? The fallen angel that abandoned her when she was turned, David Thornton. But David's not the cold-hearted monster she's always thought he was...nor did he abandon her. And when Olivia's hatred of David turns to desire, will her need for revenge against her vampire master destroy the one beautiful thing in her life, or will she find a way to make David love her despite the creature she's become? This novella features a succubus enslaved to her needs, a sleeping beauty, and some explosive sex on a monastery floor. While this novella is set in the world of the Succubus Diaries, it is not necessary to read the series to enjoy the story.
Book Review
At the time of this article's entry in the SuccuWiki there was no review available.
External Links