Thank you for over 12.9 million views of the SuccuWiki!
The Road to Hell
From SuccuWiki - The Wiki of the Succubi

For other uses of the word Succubus, see Succubus (disambiguation).

The Road to Hell is a novel written by Jackie Kessler and is part of the Hell On Earth book series.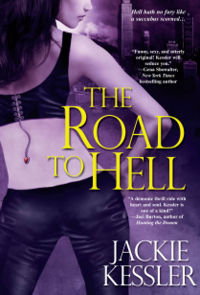 Book Details
Format: Mass Market Paperback
Pages: 304
Publisher: Zebra Books
Language: English
ISBN-10: 0821781030
ISBN-13: 978-0821781036
Release Date: November 1, 2007
Other novels by Jackie Kessler on SuccuWiki
Book Synopsis
In Jackie Kessler's debut novel Hell's Belles, she introduced readers to Jesse Harris, a succubus-turned-human with a tart tongue, a way with a g-string, and a soft spot for sexy undercover cop Paul Hamilton. Now Jesse's back, and where she goes, Hell is sure to follow...
There's Nothing Worse Than A Demon With A Grudge
Jesse may no longer be a soul-stealing succubus, but she's got a Hell of a past. She'd love to come clean to her sweet, super-hot boyfriend Paul, but how exactly does a girl start that conversation? There's no name tag that reads: "I Used to Have Sex with Men before Taking Their Souls to the Lake of Fire--Ask Me How!" Just like some people are worth being monogamous for (shudder), some secrets are worth keeping. Like the fact that bad boy incubus Daunuan keeps popping up from the Underworld to put some toe-curling moves on her; that her former associates are trying to strong-arm her back into the fold; and that every supernatural entity on the planet seems to want to have a conversation with her in the bathroom. But someone in the Underworld isn't ready to play nice (go figure), and this time, the stakes are nothing less than Paul's immortal soul.
If Hell wants Jesse back so badly, they've got her. But payback's a bitch, and this bitch is about to rock Hell like a hurricane--or lose her soul trying...
Book Review
The following is a book review from Publishers Weekly

Kessler's sizzling sequel to paranormal debut Hell's Belles puts ex-succubus Jezebel— the now-mortal Jesse Harris, a dancer at a strip club—stage center again. For a month after waking up in a hospital, the former 4,000-year-old, fifth-level succubus who used to seduce humans to claim their souls has been living a happy mortal life in New York with a devoted boyfriend, New York vice cop Paul Hamilton. So when Alecto, a Fury from hell, arrives and demands she return to hell to help Alecto's sister, Megaera (Jessie's former best friend who betrayed her), Jesse balks. Much of the rest of the book is spent convincing her to change her mind, with each sexy escapade topping the last, until (among other things) the demons go after Paul, and Jesse has to pull an Orpheus. Kessler's raunchy blend of heaven, hell and eros makes for a wild thrill ride, and hot, tough-talking Jesse has gumption and sass. (Nov.)
Copyright © Reed Business Information, a division of Reed Elsevier Inc. All rights reserved.
External Links